1
« on: January 23, 2017, 04:02:36 PM »
Sorry for my English. It's not my first language.
My new 1975 suitcase – Peterson- Rhodes is a great instrument in very good condition.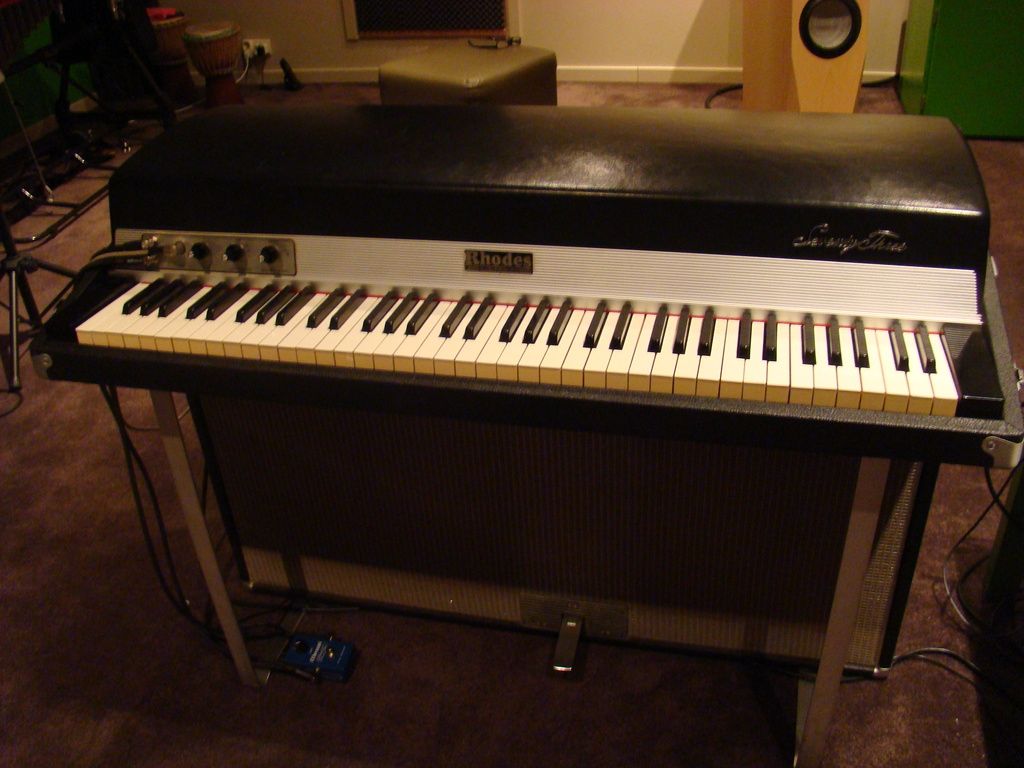 It is "all-original" except of course for the small parts (grommets,
hammer-tips, action mod, washers, felts..)
I intended to keep it that way.
But to be honest, some flaws and issues kept bothering me.
Like a lot of old suitcasesit suffered from modest volume, unwanted distortion, especially when pushing the volume, crackling noise, a bit of hum…
And of course the well-known "muffled" suitcase sound...
OK, it's charming in a way. But I would rather reach that particular sound by turning my tone control
button to the left... but also be able to have some brilliance and transparency when it is turned to the right…
As I wanted to keep my suitcase original I decided to "replace" some parts, rather than to repair or modify.
And I would keep the original components stored safely in a dry place.
Everything should be reversible.
So I replaced the old alnico speakers for some new Jensen CH/Mod 12-50
I doubt this was a good choise. I will explain later.
I replaced the old Peterson pre-amp for a new Vintage Vibe pre-amp
Great product, sounds like the old Peterson pre-amp, but without the noise, humm, crackling etc.
And recently I installed the
new amp modules designed by Mike
Borish
http://www.borishelectronics.com/products/
Fender Rhodes 7054 "Peterson" Amp Redesign Kit
Mike offered two things:
- Sending just the printboards with the transistors
- Installing the PCB's and transistors to my current Peterson modules (which I had to send to him)
As I wanted to be reversible, there was only option 1.
So I ordered a pair of modules from Borish electronics.
Meanwhile I ordered a pair of Indonesian good quality heat-sinks for about
20 $, shipping included. They are a bit shorter but thicker, but look and feel very well.
The heat-sinks arrived a few days later.
Belgian Customs clearing kept the amp modules for more than one month
tsss....
Anyway.After this month, both PCB's arrived well, together with 4 new silicon transistors and fuses.
I have very modest notice of electronics.
On Borishelectronics' website the modules are called "drop in replacement".
This would surely be the case if I would have sent in my old Petersons, to receive ready-made modules.
But I had to install the transistors and do some wirings. Also I had to check for regulating the bias and offset.
After Mike's first e-mail with instructions regarding this, I concluded I would depend on my local amp tech.
But when the modules finally arrived, my amp tech went on holidays…for three weeks.
I have been patient enough with the customs - delay, so I decided to try it myself.
To install the transistors to the heatsink, well there was Youtube and Google
.
It looked pretty obvious, so I felt rather confident about that.
The wiring made me doubt a bit. I was not sure about 2 wires. (only 4 wires, one wire is ommitted in this design)
But I managed to install them.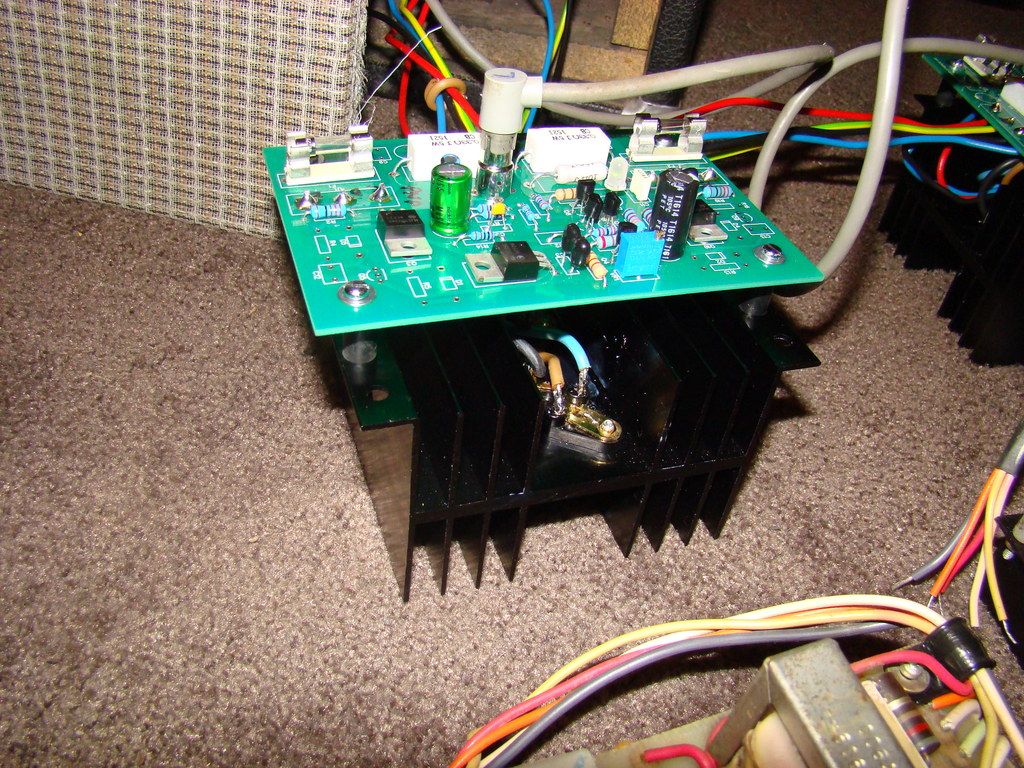 I was very eager to test my modules.
I don't have a "variac" like Mike suggested (who does anyway?) so I plugged
them directly into the power section of the suitcase…with speakers connected of course.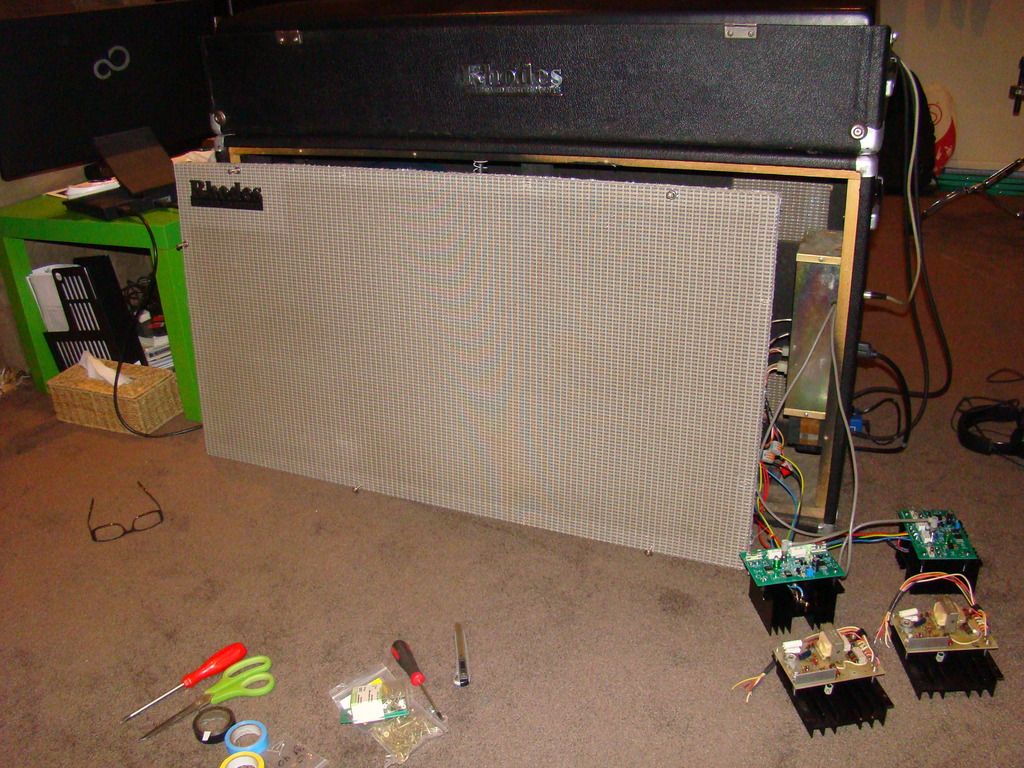 You can see the new modules attached to (temporary long wires connected to) the Power supply.
And in front the old Peterson modules.
I kept the power switch between my shaky fingers in case the modules would show up as smoke generators
What was / is the result ?
Just one short sound ? With some visual firework effects ?
Or will I finally make my point and just describe the qualities of the amp modules ?
That is for my next post…if you still would want to read it. It is already
a lot of writing for me and reading for you
This was the UNBOXING part. Next is the review. Hope to see you back...